EFInA welcomes funding commitment to support collecting credible financial inclusion data in Nigeria.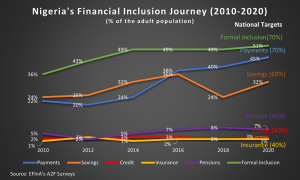 23 February 2023, Lagos – EFInA welcomes funding support from the Bill & Melinda Gates Foundation that contributes to the conduct of the Access to Financial Services in Nigeria (A2F) survey, as well as the development and implementation of a sustainability plan for the survey. The survey covers more than 27,000 consumers nationally and provides relevant and reliable data on the demand for and use of financial services (formal and informal) by the adult population in Nigeria. Conducted biennially, the A2F survey is EFInA's flagship research and has become the reference point for financial inclusion data in Nigeria; with the Central Bank of Nigeria (CBN) adopting the survey as the principal information source for assessing benchmarks and setting future targets in the CBN's National Financial Inclusion Strategy.
This funding from the Gates Foundation comes as part of its commitment to support the Nigerian ecosystem in extending access to financial services in the country and to increase usage of these services in ways that build the resilience of individuals/households and the communities in which they reside. This investment contributes to ensuring that financial inclusion data is available to financial and non-financial institutions, regulators, and the donor community, to benchmark and track trends in financial inclusion. The data also supports identifying opportunities for policy reform and the development of products that positively impact low-income households and individuals – particularly women and those residing in Northern Nigeria.
A2F has tracked the progress of financial inclusion in Nigeria for over a decade. Over the next year, EFInA will be prioritizing the sustainability of the survey – including fundraising, to ensure that it can continue to track progress for decades to come.
The Chairman of EFInA's Board, Dr. Agnes Tokunbo Martins, said, the Gates Foundation investment allows EFInA to continue to build her reputation as the key source of financial inclusion data in the country, and ensure the continued availability of data for decision-making on access to finance in Nigeria. Dr. Oluwatomi Eromosele, Research Manager at EFInA says, in addition to tracking progress towards financial inclusion, future A2F surveys will adopt a development lens that helps us assess how financial mechanisms are driving improved livelihood outcomes, and what the gaps are. This includes an increased focus on essential topics such as Financial Needs, Financial Health, Women's Economic Empowerment, and Climate Resilience, all geared towards assessing how financial systems help build resilience from shocks and create opportunities for Nigerians.
EFInA is therefore pleased to announce the commencement of the 8th round of the A2F survey. As part of this process, we will be engaging stakeholders across the financial inclusion landscape to ensure the survey remains fit for purpose. We, therefore, request your support and cooperation throughout this process.  In December 2023, we will host a high-level dissemination event where the key findings from the survey will be shared with stakeholders.