EFInA partners with the Gender Centre of Excellence (GCE) to launch a report on "Gender-disaggregated Analysis of the Nigerian Lending Market: Understanding Women's Access to Credit and Loans"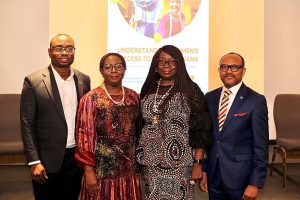 On 10 May 2022, EFInA supported the Gender Centre of Excellence (GCE) established by Rockefeller Philanthropy Advisors (RPA) to disseminate key research findings from the report titled "Gender-disaggregated Analysis of the Nigerian Lending Market: Understanding Women's Access to Credit and Loans to a range of financial services stakeholders at a hybrid event. The dissemination event was followed by a capacity-building workshop to build stakeholders' awareness and skills in sex-disaggregated data analysis.
The study which was commissioned by GCE/RPA in partnership with EFInA, CreditRegistry, and Innovations for Poverty Action (IPA) utilized demand-side data (EFInA Access to Financial Service survey in Nigeria – A2F data) and supply-side data (CreditRegistry) to explore gender differences in access to credit in Nigeria. The objective is to provide useful insights on women's credit profiles and behaviour, deconstruct the perception that credit services developed for women will meet the needs of all segments of the women population as well as highlight potential opportunities to increase women's access to credit services in Nigeria.
Expected outcomes include an increased and clear understanding of the status of women's credit in Nigeria, market opportunities identified to enhance women's access to credit, FSPs supported through evidence-based insights to build appropriate women-centered solutions, FSPs embed these findings in decision-making, as well as implement recommendations from the event.
Key takeaways from the report
For both men and women, the most reportedreasons for borrowing are business, risk preparedness, and household expenses. While people borrowed formally (banks & MFIs) to acquire long-term assets such as houses, lands, and cars​.
Nigerians are likely to borrow from friends regardless of having formal accounts or the number of accounts they have. There is no discernibledifference between the proportion of men and women who borrowed from their social networks​.
Most formal female borrowers preferred this source because of affordable monthly instalments and experiencewith the financial provider while they preferred informal providers due to the absence of background/credit checks.
​
Dynamics within the household (decision making, asset ownership) matter more for women, than men, when it comes to predictors of borrowing (amount and formality).​
Women with more education and women in urban areas are more likely to borrow formally than all other women in the sample.​
Recommended actions
The financial services should push for the development of credit products that have similar characteristics to informal credit products.
Encourage the bundling of formal products/services with credit services.
Language and messaging should be simplified especially for the low-income.
There is a need for continuous capacity-building sessions aimed at enlightening FSPs on how to analyse and draw insights from sex-disaggregated data.
There is a need for intentional financial literacy awareness creation among the rural/hard-to-reach areas.
Collaboration and partnerships across stakeholders is needed to achieve these efforts.
Here is a link to the full report: Presentation of Key Findings of the Gender-Disaggregated Data Analysis by Brian Nwesigwe.pptx | Powered by Box