EFInA partners with FSD Africa to promote innovation in driving access to insurance for the underserved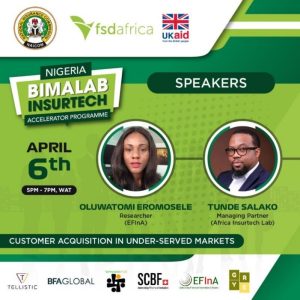 The Nigerian insurance market has a long way to go in serving the needs of the lay man. Insurance is currently still very much for the elite and the formally employed. EFInA's Access to Financial Services in Nigeria (A2F) 2020 survey revealed that just about 2% of adults have insurance, implying that 104m adults do not have insurance. Particularly coming out of the COVID-19 pandemic, this huge protection gap raises concerns about the resilience of Nigerians and what mechanisms are being used to cope with shocks. It also highlights an opportunity for insurers to be innovative in extending protection to the uninsured population, especially low-income consumers who need insurance for recovery but are least able to afford it.
As we shared during the InsurTech Business Series Webinar on April 6, the potential market for insurance in Nigeria is huge. According to the A2F 2020 survey, 60% of Nigerian adults experienced a financial shock in 2020. Although 98% are not insured, approximately 40% of these risks could be covered by insurance; translating to about 28 million adult Nigerians who could have benefited from appropriate insurance coverage. 18m adults without insurance are interested in microinsurance when the service is described to them.
Recognising the potential of InsurTech as the new frontier for Fintech, as well as the transformative power of technology for the insurance industry in Nigeria, EFInA is collaborating with Financial Sector Deepening Africa (FSDA) in implementing the BimaLab Insurtech Accelerator programme.  FSDA in partnership with the National Insurance Commission (NAICOM) launched BimaLab as a platform to attract, inspire and organize key players and disruptors across the financial industry and technologies to collaborate on a groundbreaking, innovative insurance products and services. The goal of BimaLab is to create an Insurtech start-up ecosystem that helps such insurtech's to start and grow. This will develop a vibrant ecosystem of start-ups, corporate partners, investors & research institutions to accelerate and scale innovation by turning validated insurance-focused ideas to market and investor-ready.
As part of this collaboration, EFInA is providing advisory support to early stage insurtech and fintech start-ups in Africa, encouraging cooperation, promoting partnership and growth in the insurance sector. On April 6, 2022, EFInA hosted a speaker session in collaboration with Tunde Salako (Managing Directors, Africa Insurtech lab) focused on customer acquisition in underserved markets. In this session, we highlighted the latent potential of insurance for reaching the underserved market in Nigeria; including approximately 10m adults who are interested in microinsurance and are banked. Serving this market requires innovation in tackling some of the existing demand-side (low level of awareness, lack of adequate information, lack of trust, low customer value proposition) and supply-side (inefficient distribution channels, high cost to serve, insufficient market information) barriers to insurance uptake. Insurtechs also need to position themselves to leverage non-traditional channels for distribution, and adopt a human centric design to product development for the underserved – we must put the customer at the centre of the product
Below is the link to the presentation.
Customer acquisition in underserved market
InnoLab Speaker Session Customer Acquisition in Underserved Markets – YouTube